"Emojiland" takes place inside a smartphone, in a digital mini-world peopled with emojis, and its hero looks about the way you'd think: like an undiluted dweeb – though, since this is a pop musical, the chartreuse frames on his glasses are kind of fabulous.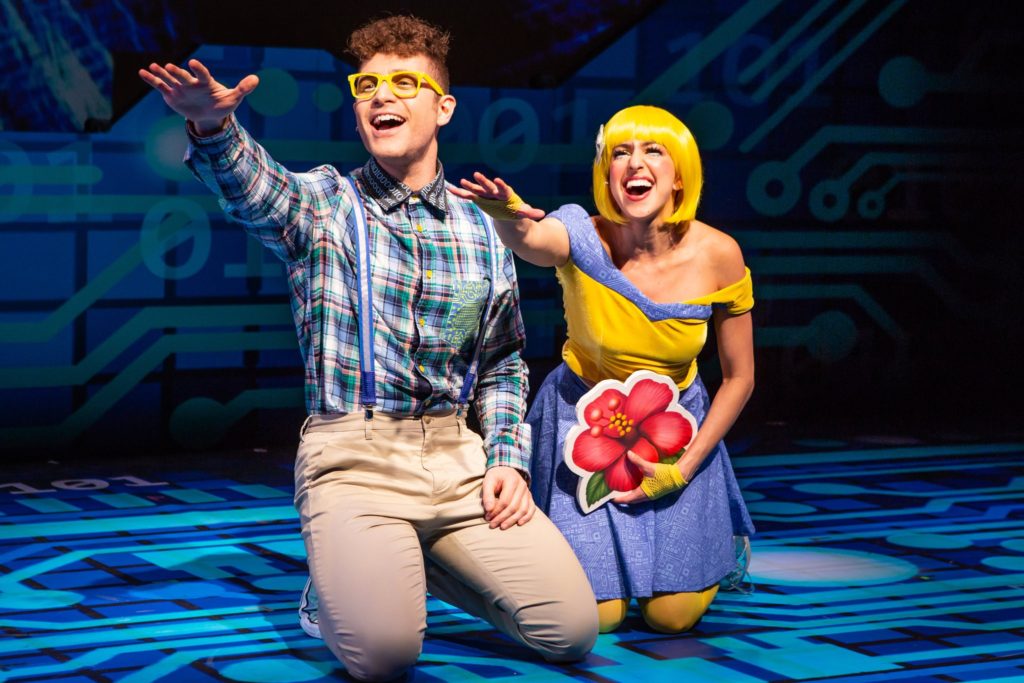 "My name's Nerd Face," he says, and with a jolt of laughter from the audience, our hero has arrived. A newcomer to Emojiland, Nerd Face was installed with the latest update. And the moment he spies Smize – that's short for Smiling Face with Smiling Eyes, and she's not as happy as she seems – the show fizzes with rom-com effervescence.
Of the three full productions at the center of the New York Musical Festival, "Emojiland" is the most charmingly silly fun. It is also, surprisingly yet subtly enough, the most politically resonant.
With book, music and lyrics by the married team of Keith Harrison, who makes a darling Nerd Face, and Laura Nicole Harrison, who is a winning Smize, it's about a society that builds a wall to keep newcomers out, only to discover that the menace to its survival already lurks within.
The wall is a firewall, actually, its construction ordered by the bossy, baby-voiced Princess (the Olivier Award-winning Lesli Margherita, a daffy blast to watch), who's been feeling threatened ever since the update abruptly added a Prince (Josh Lamon, ditto) to the realm. They fear that future updates could further dilute their power. Directed by Thomas Caruso against a backdrop of clever projections…the costumes and makeup add to the show's frivolity.
There's no trouble picking Pile of Poo out of the crowd. Played with panache by Jessie Alagna, she gets a nice solo too – in the bathroom. The Police officer (Angela Wildflower) and Construction Worker (Megan Kane) have an important story line…it let's the authors make a case for integrity as a basic social value. "I know what I stand for," the Construction Worker sings, resisting the wall.
Even when things get dark in Emojiland, some of its people stay brave – and, when doom seems imminent, they fight to reset what's gone tragically wrong. From an energetic little musical, that's a lesson for our time.